About APIC
Established in 1999, APIC Corporation is both a research and development center as well as a manufacturer of commercial lasers and photodetectors. APIC's core business and IP is in compound semiconductor research, device design, chip fabrication, and module packaging. From 2004 to 2017 APIC had a prime contract with the US Navy and DARPA, total funding exceeding $100M, to develop technology and prototype Highly Integrated Photonics (HIP) devices. The goal of this work was the fabrication and prototyping of HIP devices for electronic warfare, electronic surveillance and communications, applications which require extremely high fidelity (very low noise, high dynamic range and highly linearity) transmission of broadband analog signals over fiber. Presently, APIC continues to perform advanced research and development while leveraging its technological successes to manufacture the highest performing devices for commercial and scientific applications.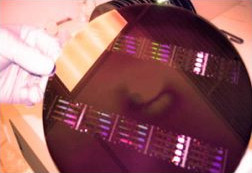 AIP-Fabricated Photonic Wafer
Core Competence
The chip design and fabrication of high performance photonic devices; device packaging and vertical integration into electro-optic systems.
Our Background
Advanced Photonic Integrated Circuits (APIC) Corporation is a pioneering photonics business founded in 1999 and headquartered in Culver City, CA (minutes from LAX). Over 15 years of experience in developing advanced devices for the US military. APIC's capabilities include:
Photonic system design and integration
Rapid photonic R&D and prototyping
Manufacturing of high performance electro-optic components
Our Staff
CEO
Dr. Dutt founded APIC Corporation with the goal of inventing pioneering technology in the photonics industry. This has encompassed work in the areas of microelectronics, photonics, and optoelectronic integration. Products include highly integrated photonic circuits that incorporate a variety of functional components through use of silicon-on-insulator technology. Dr. Dutt has developed and holds several significant patents in the fields of radar, applied physics, and photonics. He graduated with honors from the Indian Institute of Technology in 1971. Dr. Dutt earned a master's degree from Virginia Polytechnic Institute and State University. He later studied the nonlinear physics of solitons at the University of Southern California (USC) and earned a doctorate in experimental fluid mechanics from USC, with part of his thesis work undertaken at the Jet Propulsion Laboratory, California Institute of Technology.
Read More
James Chan, PhD
Vice President of Radar Systems
Dr. Chan is a cofounder of APIC and assumed his role as senior scientist in 2003. In this capacity, he pioneered APIC's work in the area of SOI-based technology as well as in the integration of photonic and electronic components on an SOI substrate. He has more than 28 years of industrial experience at the helm of government-contracted research-and-development efforts. Dr. Chan holds several patents and hasauthored a number of external publications and proprietary reports. He received his bachelor's degree from California State University at Chico and both his master's degree and his doctorate in electrical engineering from the University of California at Los Angeles.
Koichi Sayano, PhD
Vice President of Optical Systems
Dr. Sayano has more than 20 years of experience in technical research and development, and in management. Before joining APIC, he served as Director of Research at Research & Development Laboratories, where his responsibilities included the system integration and testing of an optical code-division multiple-access (OCDMA) fiber-optic communication system as well as the testing and evaluation of erbium-doped optical sources and fiber amplifiers, photonic integrated circuit chips, and other optical components. He received his bachelor's degree, master's degree, and doctorate in applied physics from the California Institute of Technology.
Denise Lortie
Vice President of Administration
As a co-founder of APIC Corporation in a role as its VP of Administration and Corporate Secretary to the Board of Directors, her career started in the Government and Defense industry such as R&D Associates and Science Applications, Inc. She has over 30 years' experience in various aspects of administration, contracts and management and is responsible for the implementation of corporate policy. She also operates as a liaison to support U.S. national security interests and international companies' legal compliance.
Kim Henderson
Director of Finance
Ms. Henderson has more than 25 years of financial management experience, primarily in the government contracting industry. She has held lead revenue and project accounting positions at Intelsat General Corporation and CACI, as well as at APIC. She holds a degree in finance from George Mason University.
Bill Hoker
Director, Washington DC Operations
CAPT Hoker USN ret brings 3 decades of global operational military expertise to APIC to spearhead our outreach to the US Department of Defense and US Interagency. A graduate of the US Naval Academy, US Navy Postgraduate School, and Naval Command College, he commanded USS Valley Forge (CG50) andDestroyer Squadron 7. Assigned by the Chief of Naval Operations in 2006 as Navy Liaison for the Defense Advanced Research Projects Agency (DARPA), he led efforts to connect potential Naval users with revolutionary national technology capabilities, including Highly Integrated Photonics. He joined APIC in 2010.
Bob Walter
Director, Program Management
Mr. Walter has over 27 years of program management experience in projects ranging from M1 Abrams Tank fielding, to research and development at the Defense Advanced Research Projects Agency (DARPA). Mr. Walter is a DAWIA Certified U.S. Department of Defense acquisition professional and a retired Army Lieutenant Colonel with 20 years of experience in combat arms and Army Acquisition. As a DoD contractor for 14 years, he provided technical and managerial support for program formulation, planning, solicitation, and execution on numerous projects in DARPA and other DoD agencies. Mr. Walter earned his BS in EE from the United States Military Academy at West Point in 1981 and an MSE studying robotics at the University of Texas in Austin in 1992.