Using its internally developed ultra-low noise laser sources, low drive electronics and high responsivity, high linearity receivers, APIC integrates variety of RF over fiber links that are optimized simultaneously for maximum instantaneous bandwidth, lowest noise figure (NF) and high dynamic range. Typical intrinsic gain (unamplified) links exhibit NF in the range of 18 to 25 dB with Spur Free Dynamic Range (SFDR) of 115 dB Hz2/3 . We offer links with front end Low Noise Amplifiers (LNA) achieving noise NFs down to 3 dB range. We offer both standard and custom link configurations.
Rugged High Fidelity Alternative to Copper Coax Cable
APIC's RF over fiber technology enables analog RF signals to be transmitted over optical fiber using amplitude modulated light. Fiber offers much higher bandwidth, lower RF propagation loss, is a lot lighter and more compact than bulky coaxial cable.  The RF signal is converted to light with an analog optical transmitter, propagated over single mode optical fiber, and converted back to electrical RF by high linearity analog photodiode/receiver.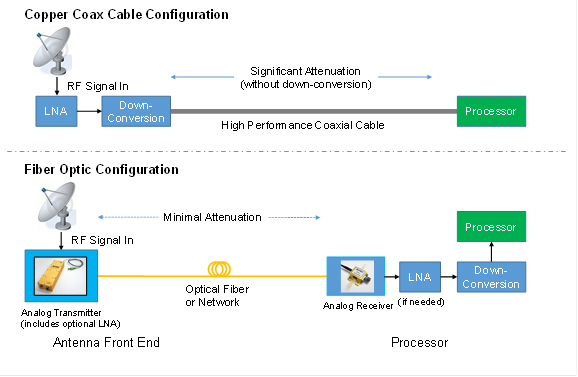 Fiber to the Antenna:

Microwave links
Radio Telescopes
SATCOM Terminals: X, Ku and Ka Bands (to 30 GHz)
Wireless Communications

Electronic Sensors and Electronic Warfare Systems
Tethered Remote Vehicles
Please call sales for additional information.
Ultra Low Noise: Proprietary low-RIN laser operating at shot noise limit.
Noise Figure < 8 dB (with LNA) and <25 dB (without LNA)
High Dynamic Range: SFDR as high as 115 dB-Hz2/3for non amplified links
High immunity to back reflections including Brillouin scattering allowing RFoF links with >10km reach
Broadband: Seamless transmission of RF over 50 MHz to 20 GHz (with LNA) and DC to 30 GHz (without LNA)
Rugged: Meets MIL-STDs for temperature, vibration, shock, EMI and atmospheric pressure.
ITU DWDM Compatible: Fixed wavelength lasers conform to ITU grid of 100 GHz.
Self Contained Transmitter: External connections for DC power, RF input and fiber optic output/input. Switch or software control of device.